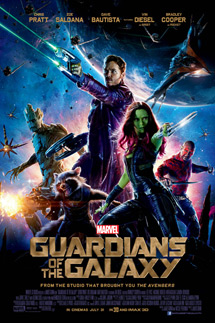 Guardians of the Galaxy
is a space epic adventure that focuses its story on a band of intergalactic misfits who are outlaws fighting for good. The Marvel comics series of the same name from which it is based on, and the upcoming movie seems to have a treatment quite similar to Firefly and Serenity; high adventure with light-hearted elements of comedy.
SCREENING SKEDS:
Robinsons Movieworld Cinema 1 [3D] = 5:00 PM | 7:40 PM
Robinsons Movieworld Cinema 2 = 12:15 PM | 2:55 PM | 5:35 PM | 8:15 PM
SM Iloilo Cinema 8 [3D] = 12:00 PM | 3:00 PM | 6:00 PM | 9:00 PM
SM Iloilo D-Cinema = 12:30 PM | 3:20 PM | 6:10 PM | 9:00 PM
---------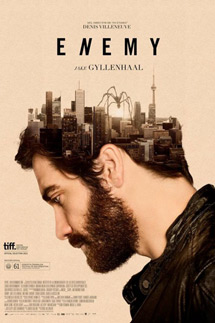 Enemy (2014)
This psychological thriller film directed by Denis Villeneuve which was loosely adapted by Javier Gullón from José Saramago's 2002 novel The Double. The film stars Jake Gyllenhaal who plays Adam Bell, who is a glum, disheveled history professor, who seems disinterested even in his beautiful girlfriend Mary. Watching a movie on the recommendation of a colleague, Adam spots his double, a bit-part actor named Anthony Clair, and decides to track him down. The identical men meet and their lives become bizarrely and irrevocably intertwined. Gyllenhaal is transfixing as both Adam and Anthony, provoking empathy as well as disapproval while embodying two distinct personas.
SCREENING SKEDS:
Robinsons Movieworld Cinema 6 = 12:00 PM | 2:00 PM | 4:00 PM | 6:00 PM | 8:00 PM
SM Iloilo Cinema 7 = 1:30 PM | 4:00 PM
---------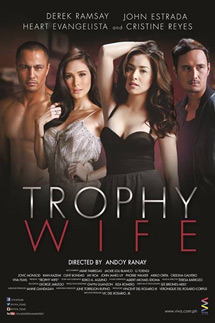 Trophy Wife (2014)
Another one of those infidelity stories, this Filipino romantic drama and thriller film starring Cristine Reyes, Derek Ramsay, Heart Evangelista, and John Estrada, and is directed by Andoy Ranay, who is best known for mainstream Tagalog movies like "Sosy Problems" and "Diary ng Panget"
SCREENING SKEDS:
Robinsons Movieworld Cinema 5 = 12:45 PM | 3:10 PM | 5:35 PM | 8:00 PM
SM Iloilo Cinema 4 = 1:00 PM | 3:40 PM | 6:20 PM | 9:00 PM
---------
Blood Widow
Laurie and Hugh are a successful young couple who have just closed on a weekend home away from the city. Unbeknownst to them, the neighboring property contains the crumbling remains of a boarding school that was shuttered in the wake of an unspeakable massacre. The sole survivor of that massacre still resides in the ruins of the school, hiding from the world and wanting only to be left alone. When Laurie and Hugh's friends explore the property, they have no idea that they disturbed an emotionally-broken killing machine: The Blood Widow.
SCREENING SKEDS:
SM Iloilo Cinema 1 = 6:20 PM | 9:00 PM
---------
Possessed
Originally titled "Pee Kao Pee Ook", this Indonesian horror-comedy is about a group of kids who go to a Chinese cemetery as a filming location for their short movie 'senior-year' project; Only to end up being haunted by ghosts.
SCREENING SKEDS:
SM Iloilo Cinema 7 = 6:30 PM | 9:00 PM
---------
[hit the jump to continue to the movies on extended run, and the FDCP Cinematheque movies]